Remote Footprints is working to precisely calculate and travel to the remotest locations in each of the 50 United States.  We call this unique endeavor-Project Remote.  Below is a written account of our 1-day hiking expedition to document the North Dakota Remote Spot. This is our 24th state Remote Spot documented as part of Project Remote.
In Ryan's Words…
October 13, 2013.  The North Dakota Remote Spot, at 2.6 miles from a road, resides in the middle of the Mandan, Hidasta, and Arikara Indian Nation.  Below is a typical view of this vast landscape.    The region is shaped primarily by erosion through a badlands formation.  The MHA Nation graciously allowed the Remote Spotters to document the remotest location in all of ND within their lands.  We greatly thank the MHA Nation for this opportunity.
In fact, we were cordially escorted through Bakken Oil Boom traffic to the start location of our all-day excursion to document the ND Remote Spot early on a Sunday morning.
The U.S. obsession to burn fossil fuels as its primary source of energy continues to impact our great national wildlands heritage, and also is responsible for a vast amount of road-building.
Oil related structures dot the landscape from one horizon to another.  The oil boom surrounds the roadless area that contains the North Dakota Remote Spot.  These structures are on the periphery of the roadless area polygon containing the ND Remote Spot.  The ND Remote Spot may become impacted by oil boom expansion inward into the roadless area.
An hour into our off-trail bushwhack hike to the ND Remote Spot, we finally get out of immediate view of any oil structures.  We're headed to Terra Remota in North Dakota…
Hiking off-trail in wild country presents many challenges.  This time, we must negotiate the badlands as best we can…
The U.S. government dammed the Missouri and Little Missouri Rivers to create Lake Sakakawea Reservoir back in the 1940's.  It was done without asking the MHA Nation their feelings about the matter.  This event flooded an immense amount of their Nation Lands and wiped out their agricultural fields near the rivers.  Most of the local Native Americans we spoke with still aren't too pleased about that part of their history.  We can't imagine why?  (That's sarcasm.)
We arrive at the North Dakota Remote Spot nearly 4 hours and 4 miles after embarking from our parked car.  Below is the view eastward from the spot.  Another 30 paces, and we'd be over a cliff.
As touched on earlier, the ND Remote Spot is endangered because of Bakken oil boom pressure moving inward toward the Remote Spot.  We do not place blame on any single group of people for allowing this to happen.  After all, we burned lots of oil getting here from Florida.  We as a nation must come together to find new sustainable and ecologically sound energy sources, not to mention, to adopt policies the de-emphasize new road-building…
During the Remote Spot Assessment, we see burning gas flames on the horizon.  This is an ominous warning sign that the largest roadless area left in ND is "under fire" from the oil industry as well as our current national policy to increase domestic oil drilling.
Here we are again as the Remotest Family in North Dakota…
It is a day full of adventure and discovery, not to mention, grandiose fall color and badlands scenery.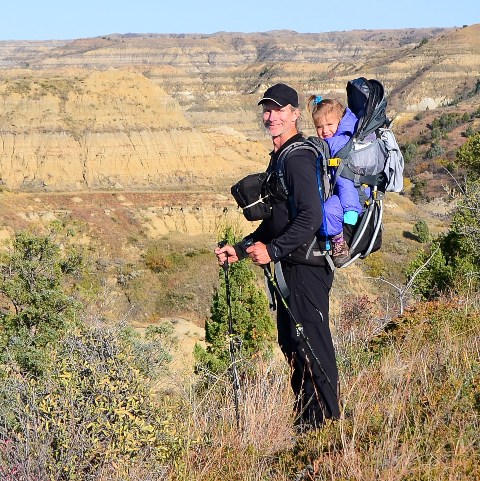 -The Remote Spotters