This website is dedicated to projects we, Remote Footprints, and our parent organization, Coastal Plains Institute, are conducting within the Munson Sandhills area of the Apalachicola National Forest.  Within this vast land, and just outside the state capital city of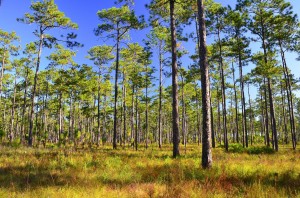 Tallahassee, lies the rare and extremely diverse longleaf pine sandhill community called the Munson Sandhills.  These sandhills are a fire-maintained community rich with diverse plants, insects, birds, reptiles, amphibians, and mammals.   Many rare and threatened species inhabit this region including the red-cockaded woodpecker, indigo snake, black bear, gopher tortoise, and gopher frog.   But what makes this sandhill community truly unique are the over 175 ephemeral wetlands scattered throughout the landscape.  It is within these wetlands that our research focuses.
On this website you will find more information about our various conservation education programs including: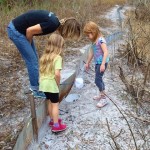 What Lives in the Wetland? - We incorporate an environmental education aspect into a preexisting conservation project to introduce (or more accurately, repatriate) the imperiled striped newt back into the wetlands it formerly inhabited.  This program is open to community and student organizations, schools, and teacher groups.
Adopt an Ephemeral Wetland  - This year, 2014, is the first year for this project and interest levels in our community have been overwhelming.  Volunteers adopt a wetland (or 2) and survey the amphibians in that wetland at least 4 times a year.  We will be continuing the project in 2015.
Blog Posts - Experiences from the field.  Posts by us, our volunteers, and the student groups and community organizations that participate in our projects.
Resources - A page with info, publications, and websites relevant to the Munson Sandhills of the Apalachicola National Forest, ephemeral wetlands, and ephemeral wetland-breeding amphibians.
Enrichment Activities- Lessons and activities that expand on student experiences dipnetting wetlands and checking traps at our drift fences.