One of our main focal points is to help individuals and families get outdoors and go remote.  On this page we offer a variety of resources to help you do so.
Guided Eco-Jaunts.  With over 40 years of combined experience as wildlife biologists, we can provide unique, guided adventures of Florida natural wonders.  From wild spring runs to researching endangered species, or a trip of your design, you will have an outdoor experience like no other!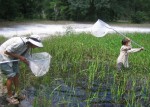 Citizen Science.  Are you interested in being an integral part of science?  We invite you to join us in our ongoing scientific field research projects.  After all, the best way to learn is to get out and experience!
Ecological Discovery Series. Join us on experiential learning adventures into the global biological hotspot we know as North Florida.   These day courses teach exciting natural history topics through total immersion in native ecosystems.  Join our mailing list to be notified when the next course is scheduled.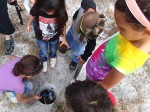 Building Communities that Conserve Wetlands - Click to access our project-specific website  that includes experiential learning opportunities, educational resources, blog posts, and info about our Apalachicola National Forest -based What Lives in the Wetland and Adopt an Ephemeral Wetland programs.
Go Remote in North Florida. Coming soon - our recommendations for hiking, biking, and boating experiences in the Florida panhandle and beyond.  Check back soon for maps, routes, photos, and links - all the information you need to experience the wilds of North Florida.
Camping Clinics. These 1-3 night adventures are designed to improve camping skills.  We offer a variety of different camping excursions for all skill and outdoor comfort levels.  Join our mailing list to be notified when the next course is scheduled.